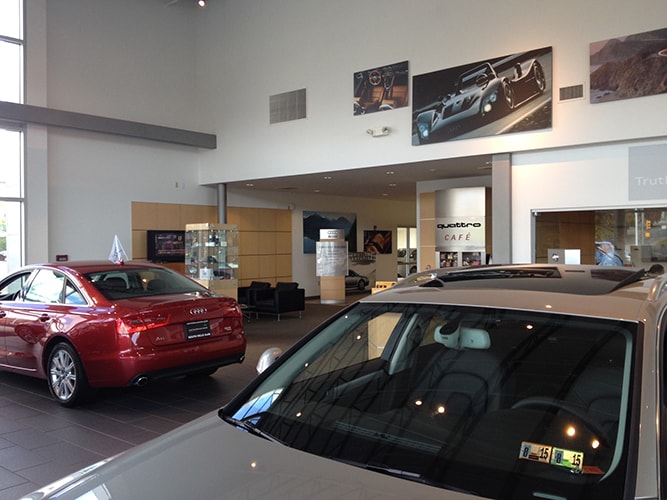 Visit the
South Hills Audi
Parts
Department for all your
Audi
parts and accessories you need.  No matter if you have a new Audi, such as the A4, S3, or Q5, or if you drive a slightly older model, we have the
genuine Audi parts and accessories
for you. Not only that, but our Audi auto Service Center will happily install whatever new parts you need to help keep your car in its best condition. 
GENUINE AUDI PARTS:
Accept only Audi Genuine Parts to deliver the power and performance both you and your Audi deserve. All of our OEM parts are fully tested to exacting standards to maintain Audi integrity. Audi Genuine Parts follow the revolutionary engineering and progressive design that is synonymous with the Audi name. All of our Audi parts come with a 1 year or 12,000 miles warranty (whichever comes first), to help ensure that your Audi runs smoothly for years to come. Whether you need
new tires
, an oil filter, spark plugs, or other parts, we are confident that we can help you maintain and repair your Audi with our high-quality parts. Why would you take your new Audi anywhere else?
GENUINE AUDI VEHICLE ACCESSORIES:
The same experts who design Audi vehicles are also the masterminds behind our stylish Audi accessories, so you can expect the quality, precision, and durability that goes along with the iconic Audi rings. Add a bold finishing touch or an innovative solution with Audi Genuine Vehicle Accessories.
THE AUDI COLLECTION:
From the boardroom to the golf course, we have all of the Audi gear you, your kids, and even your pet, will need. No matter if you want a new Audi golf polo shirt, an Audi umbrella, or Audi sunglasses to wear while behind the wheel of your new car, we've got the perfect piece for you. The Audi Collection not only looks great on you, but makes excellent gifts as well. It's Audi stylish design with performance in mind.